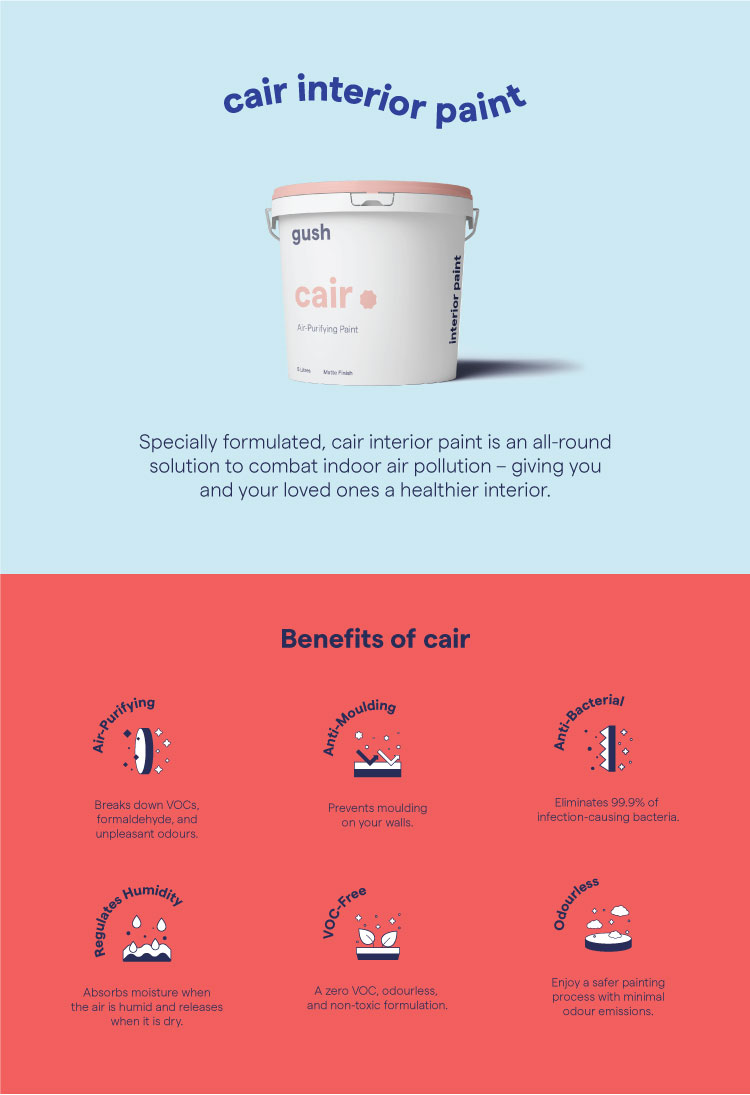 Gush Cair paints contains no formaldehyde, is quick-drying, has an excellent burning tolerance, and keeps your room cool with lower thermal conductivity.
The perception of paint colours will vary slightly depending on your screen settings and resolution. For greater accuracy, we recommend ordering painted sample sheets before the actual paint tins.
Each pack contains 5L of paint.
Package dimensions are 22 x 22 x 21 cm.
Package weight is 7.5kg
gush Limited Lifetime Warranty
Last Updated: 18 March 2020
Your gush interior paint is covered by a Limited Lifetime Warranty, subject to the terms and
conditions set forth herein. This limited warranty gives you specific legal rights.
This limited warranty extends to any paint products manufactured by LivinWall Pte. Ltd. ("gush") and purchased directly from gush (the "Paint").
A. Who this Limited Lifetime Warranty for Paint Extends To
This limited warranty extends to the original purchaser of any Paint. The "Original Purchaser," for the purposes of this warranty, is the first purchaser of the Paint from gush who owns or rents their home and who applies (or who has a painting contractor apply) the Paint to their home. All references to "you" or "your" herein refer only to original purchasers. gush limited warranties are not transferable. All gush warranties are valid only for the period of time the original purchaser of the Paint owns or rents their home. A copy of your invoice is required to determine warranty applicability.
B. gush's Limited Lifetime Warranty for Paint and Responsibilities
gush warrants the Paint in its original packaging sold to the Original Purchaser against Paint Defects (as defined in Section C below), so long as the Paint is used normally in accordance with instructions on the label and the product Technical Data Sheets.
C. What this Limited Lifetime Warranty for Paint Covers
THIS LIMITED LIFETIME WARRANTY APPLIES SOLELY TO THE FOLLOWING DEFECTS:
(i) Cracking, chipping, blistering, or peeling from properly prepared surfaces; and
(ii) Wearing down to expose the underlying surface of properly prepared surfaces (collectively, the "Paint Defects").
D. What this Limited Lifetime Warranty for Paint Excludes
THIS LIMITED LIFETIME WARRANTY DOES NOT COVER:
(i) Normal color fading, gloss loss, or chalking caused by exposure to sunlight, wind, or water;
(ii) Abrasion or burnishing due to scrubbing, traffic, or other wear and tear;
(iii) Cracking, chipping, blistering, or peeling caused by structural expansion and contraction, settling, or other movement of building components, by excessive heat exposure, or by water intrusion;
(iv) Film degradation or discoloration due to mold or mildew; or
(v) Damages resulting from improper surface preparation or coating application, extraordinary or catastrophic events, or failure to perform recommended maintenance.
Orders once placed cannot be cancelled except in exceptional cases as mentioned in UP Delivery, Return & Refund Policy in the marketplace. We request each customer to thoroughly read these terms mentioned for the marketplace.
All product prices stated are nett prices.
All local Malaysia Peninsular deliveries will be made within 5 to 12 working days from the purchase date depending on the delivery location.
The delivery charges mentioned for this product is for DELIVERY ONLY WITHIN PENINSULAR MALAYSIA i.e. the products CANNOT BE DELIVERED TO SABAH & SARAWAK.
In case a customer still goes ahead and purchases this product for delivery to Sabah or Sarawak, there will be a minimum additional delivery charge of RM 150 per 5L pack and RM 350 per 20L pack of paint to Sabah or Sarawak. This is the minimum additional delivery charge over and above what is already charged on the platform and subject to change without prior notice depending on the logistics charges at the time of purchase. We will contact customer directly to convey the final delivery charge in such cases and go ahead with the delivery only after customer pays the additional delivery charges and accepts the delivery lead time.
All purchases are subject to the seller brand's / merchant's terms and conditions.
UP Return/Exchange/Refund & cancellation policies apply for all purchases on this platform.
UP is not responsible for any loss, injury or harm any person suffers in connection with using product/s purchased.
In case of Self-Collection of products by the customer from the merchant's location, wherever applicable, all collections/redemptions must be done within 1 month from date of purchase.
All collections location, Day & Time are subject to merchant's terms and conditions, which are subject to change with/without prior notification.
Images shown are for illustration purposes only. The color of the actual product may or may not defer depending on your screen settings. In case of paints, we encourage customers to buy a painted sample sheet for their personal viewing and confirmation.